Nicaragua has a diverse types of activities for every interest and ability. You can visit the Spanish colonial cities of Granada and Leon, or surf world-class waves, hike volcanoes, or zip-line through the forest canopy.
Recently, I was lucky enough to speak with Lucas Boychuk, Director of Operations, Surf Ranch Hotels and Resorts. Lucas shared with me all the top tips for travel in this country, whose official name is the Republic of Nicaragua.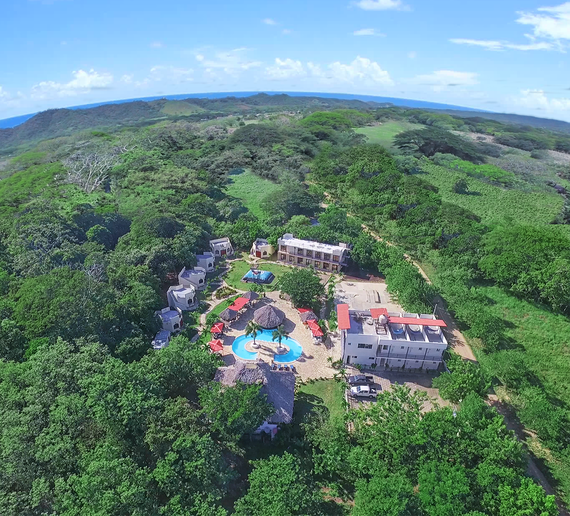 When is the best time to visit Nicaragua?
There are two seasons. The high season starts now, around the end of November and goes until the end of April or May. During this time, there are many tourists, the environment is dry, a lot of sun and wind, with many events happening. From May – October, this is the green season, which means it rains, but a few minutes a day or at night, the environment is lush green, and less tourists which means better deals on rooms.
The dry season, from November through May, is a good time to visit Nicaragua. June through October is known as the "green season," this is when the tropical rains can bring lush foliage and crisper clean air.
What is it like getting to Nicaragua?
Most people fly into the international airport in Managua (Augusto Sandino – MGA), and take a shuttle or rent a car from there. They have opened a new airport in Popoyo on the Emerald Coast, which currently takes flights from Costa Rica and Managua, but when they expand the runway next year, they will be able to bring in flights from Miami.
This is why the Popoyo area is booming right now, with new highways, hotels, and more. You can fly to either airport and rent a shuttle, rent a car of take a taxi to anywhere you need to go.
What is it like getting around Nicaragua?
Getting around can be stress-free, pleasant and secure throughout Nicaragua. Taxis are offered at the airport and major hotels. Car rental companies are located at the airport and at other locations. Visitors can use their own driver's license for thirty days after entering the country. Taxis are readily available and cost effective throughout the republic.
What is Nicaraguan cuisine?
Nicaraguan cuisine is really good and a must try. The more popular food includes Gallo Pinto (rice and beans), fresh seafood, tostones con queso (fried plantains and nica cheese), different types of soups, Nacatamales, and the national drink is a Macua (cocktail made with white rum and fruit juices, usually lemon and guava juice).
Nicaragua cuisine includes rice, beans and corn. Nicaraguan grass-fed beef results in delicious steaks, sometimes cooked on wood-burning grills. Fresh seafood is readily available and the menu prices in Nicaragua are considerably lower than in North America. At a nicer restaurant, you can enjoy a scrumptious steak or seafood for less than $15.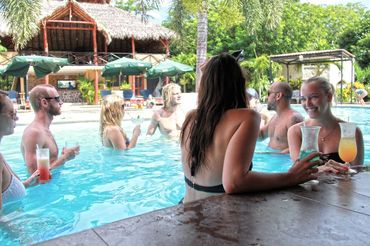 What are the most popular activities in Nicaragua?
There are a wide assortment of sports and activities for everyone. Skateboard parks, rock climbing wall, private gym, airbag jump and volleyball court. There are also many extreme sports and activities such as surfing, skateboarding, sailing, fishing, yoga, rock climbing and much more.
You can try tours and day trips to cities such as Masaya, Ometepe Island, Popoyo, Granada and more. We also offer sailing trips with an open bar and snacks provided, zip lining, rappelling, turtle tours, volcano boarding, sloth tours, fishing, and a variety of more activities.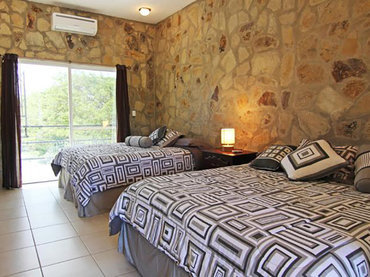 What is accommodation like in Nicaragua?
You can find everything from condos, to villas and more. They are available in a range to fit different budgets and comfort levels.
The Surf Ranch Hotel and Resort in San Juan Del Sur offers 26 rooms. 7 villas, 12 standard rooms, 1 double room and 6 deluxe condos. They are equipped with pillow top mattresses, duvet covers, air conditioning, private bathrooms with hot water, and roof top terraces. The rooms come equipped with Wi-Fi, room service, towels and amenities.
When traveling in Nicaragua, it is a good idea to check the Government of Canada Travel advisory, just to check for any updates for health, weather or any other new information (in fact, I check this for all the countries I travel to – better to be safe!).
Please let me know in the comments below, if you have been to Nicaragua and if so, what were your favourite spots or restaurants. I'd love to hear from you!
Let's keep thriving and living our very best lives! Keep an eye on my blog, as I continue to travel to unique destinations and reveal all the best travel tips.
Your suggestions are always welcome, as I continue on my journey to live life to the fullest. Let's explore some wonderful places and have the very best 2016 and 2017!
Visit Sacha daily at SachaD.com
Facebook
Youtube
Twitter
Instagram