The Best of Victoria, BC
There are always new things to explore, even in places that I have visited several times before. Revealing new hidden gems, is one of my favourite things to do when I am traveling. On a recent visit to Victoria, I was lucky enough to find some new great places to eat and sights to see this summer. Victoria's Best Burgers
Victoria's Best Burgers
What's more satisfying than sinking your teeth into a hearty burger? Here is a good list of some yummy places for the best burgers in the province's capital.

The Very Good Butchers: Fresh on the scene in early 2017, The Very Good Butcher serves up creative plant-based twists on carnivorous favourites. Situated in the Victoria Public Market, the menu includes "deli" favourites including a "pepperoni" Stromboli sub and a "roast beast" sandwich made entirely with vegan friendly ingredients.
Big Wheel Burger: Inspired by the classic American cheeseburger, a burger from Big Wheel pairs fresh local ingredients with fast service and a focus on sustainability. They were the first carbon neutral fast food joint in B.C. Their burgers are simple and flavourful made with heritage Angus beef from B.C. and Alberta, ground on site each day – 70 % chuck to 30 % brisket.
The Pink Bicycle: A Victoria classic, The Pink Bicycle was featured on You Gotta Eat Here and is a must for any burger fan. Springford Farm beef from Nanoose Bay, Parry Bay mutton, Cowichan Valley chicken, local fish and vegetables all feature on their extensive menu.
Keep an eye on the specials (such as the chicken karaage burger with crispy marinated chicken, pickled ginger, mayo and ginger carrots) and be sure to try the sizeable crunchy mac and cheese sticks or poutine as your side.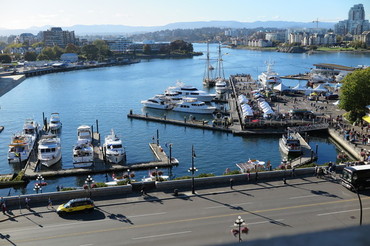 Victoria's Best Parks
Cadboro Bay – A family friendly green space, Cadboro-Gyro park is adjacent to the beach. The park is a popular spot with children. It has large concrete climbing structures, in the shape of an octopus, a big salmon, a tugboat and the local Cryptid, the sea monster Cadborosaurus.
Located at Beacon Hill Park and approximately one hectare in size, the Cook Street Playground is located between Cook Street and Nursery Road, across from the Victoria Lawn Bowling Club. The playground provides play and picnic opportunities for everyone.
Cafes
Ruth and Dean café is a favourite spot for the locals to grab a cup of coffee and relax. They are famous for their cakes, so be sure to arrive with plenty of appetite!
Nourish Kitchen & Café uses natural ingredients to showcase their love of wholesome culinary techniques. A woman I was chatting with suggested this place. She told me it is a café she visits frequently.
Eats
Agrius is known to have delicious dishes and also be a part of the Slow Food Movement. This restaurant values local, sustainable and traditional approaches to food cultivation and preparation.
Another favourite is Café Brio. They are an established restaurant in Victoria for 19 years and create Italian inspired rustic west coast dishes.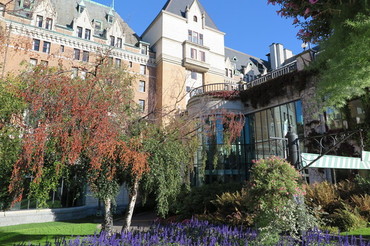 Stay
Fairmont Empress Hotel – This gorgeous accommodation has been hosting guests in Victoria since 1908. They have a world famous high tea which locals and visitors alike frequent. The lobby is warm and welcoming. When I think of the heart of Victoria, my mind always goes to the Fairmont Empress hotel.
Picnic lunch
For organic healthy foods try Mother Nature's Market & Deli. Delicious wholesome foods you can pack with you for a picnic in the park.
Ultimate South Vancouver Island Road Trip
The Pacific Marine Circle Route is a spectacular 289 km road trip that starts in Victoria through Duncan, Lake Cowichan, Port Renfrew and Sooke along a scenic highway route. Between Victoria and Cowichan, make a stop at Merridale Cidery, Distillery and Bistro and stay overnight in one of their luxury yurts after a cider and spirits tasting.
Enjoy the views out over the water at Cowichan Bay and stock up on picnic snacks at the local stores including cheeses from Hilary's Cheese and retro candies and ice cream from Udder Guys.
Getting There
To get some spectacular views and try a different way of traveling to the island. Helijet has transportation from downtown Vancouver to Victoria, daily.
Or another option is to travel by BC Ferry.
Stay tuned for the next travel blog!
Your suggestions are always welcome, as I continue on my journey to live life to the fullest. Let's explore some wonderful places and have the very best 2017!

Visit Sacha daily at SachaD.com