If you have been following my blog, you know I love to travel and keep it pretty. My most recent trip was to San Francisco this week (an amazing place to visit!).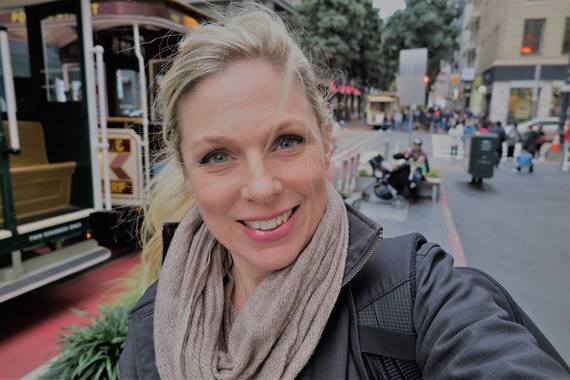 Sacha (author) in San Francisco
To find out all the top tips on how you can care for your skin when you travel, I spoke with Tracy Feehan, Vice President Marketing at Beiersdorf. Tracy provided some great tips on how you can keep your skin looking fresh and lovely throughout your travels.
What are the top travel tips for keeping your body and face moisturized?
Dry skin can happen anytime. Prevention is always better than cure. Start incorporating a moisturizing routine before your skin gets too dry. Protect by applying face creams and body lotions to strengthen the skin's barrier. There's no rule to how much moisturizer each person should use, simply use enough until your skin feels comfortable.
For those concerned about the sticky feel body lotions might leave, in-shower body lotions are a convenient way to moisturize the skin. Designed to be used on wet skin after your usual shower product (think of it as a skin conditioner), it leaves skin feeling smooth and hydrated– no need to apply body lotion afterwards.
The skin's repair mechanisms are especially active at night when we are asleep. Take advantage of this time and always moisturize both face and body before you go to sleep. Massage your skin to improve the skin's circulation which also helps you sleep more soundly.
Here are a few of my favourite travel skin care tips:
Keep your lips moisturized:
My lips are always getting chapped when I am flying or running through airports, so I have a lip balm in every bag and in all my pockets too. I love tinted lip balms; they give a nice freshness to my lips without having to carry an extra lipstick.
How to avoid chapped lips:
Drink plenty of water to avoid getting de-hydrated (flying can be fun, but very dehydrating!)
Try not to lick your lips. This is tricky, especially when your lips start to get chapped, but try not to.
Apply plenty of lip balm and often (before you go outside)
Here are the top things to look for when choosing a lip balm:
Intensive care for soft, smooth lips
Made with Shea Butter, Jojoba Oil and Hydra IQ
Provides moisture for 12 hours
My goal in life is to be traveling with only a carry-on bag and pack as light as possible (I have to leave room for all my camera gear). Cleansing wipes can be a truly life changing experience when you are traveling. It can be easy to feel icky really quickly going from airport to airport, and hopping on subways.
But cleansing wipes are a great way to keep your skin clean. They are compact and can have double duty for cleaning your hands in a pinch.
Here is a tip I learned from a flight attendant, clean off all of your makeup when you first board your flight with a cleansing wipe, and then apply a hydrating mask for the rest of your flight. Just before you land, remove the mask with your cleansing wipes and then apply a daily moisturizer. This is amazing on long haul flights. You're welcome.
Look for Cleansing wipes that can:
Gentle wipes that can effectively cleanse the skin without the use of water
Cleanse thoroughly and can protect your skin's moisture balance
Remove waterproof makeup without rubbing or irritating
Leaves your skin feeling soft and smooth
I love all of these skincare tips for travel. I am going to use these helpful tips as I continue to expand my beauty routine and travel this year!
Your suggestions are always welcome, as I continue on my journey to live life to the fullest. Let's have the very best 2017!
Visit Sacha daily at SachaD.com
Facebook
Youtube
Twitter
Instagram