I love that it is starting to get warmer out and the flowers are almost ready to start making their way out. Spring is around the corner and with it, brings brighter colours and less layers (yippee!).
Recently, I was lucky enough to speak with Mariam Boutorabi, Head of Design at Boden. Mariam shared her thoughts on the top trends for spring (that you will feel amazing in).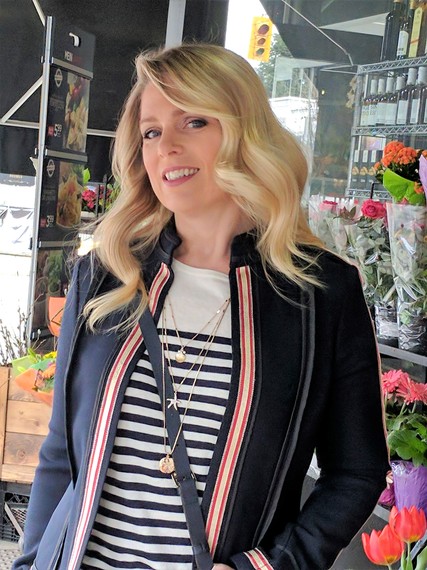 Sacha (author) wearing her own picks for Spring!
What are the top colours (and patterns) on trend this Spring?
This spring/summer you can be bold with your choices as colour trends span the spectrum from sunny yellow hues to electric blue. Pink is clearly a hot colour for the season and try different shades from the most feminine rose blushes to bright.
Prints are part of this season. A maritime print featuring hand drawn medals features on shirts, button through spring dresses. While botanical prints are prettier and softer. The glasshouse print, particularly in pink, is classic and a little romantic but still modern on crisp shirts and shirt dresses.
In early Summer, you will see red and blue multi bloom print, in dresses, off the shoulder tops, skirts, and trousers, it's impactful but still very feminine and definitely answers the huge floral trend we are seeing all over the catwalks.
How can you mix and match these colours and looks this season?
This season is all about creative pairing. Try florals, conversationals, geo prints, animal print, spots and stripes, they are all apart of spring! Try new things.
I am also a huge fan of embracing one colour, like a bright pink cashmere sweater with camellia pink trousers would be a simple outfit, but with great impact.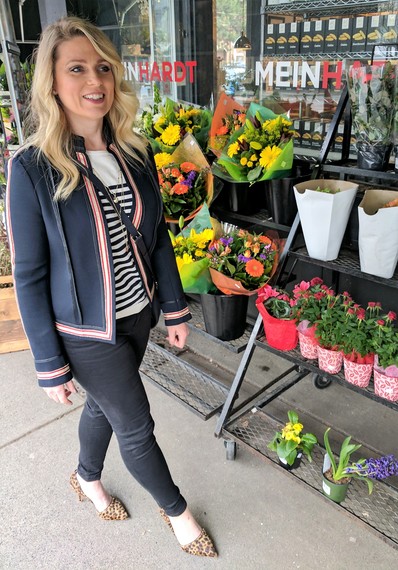 I love being comfy and the pretty colours this spring.
If you were going to try one new piece this spring what would it be?
If you don't have a shirt dress, then this would be my recommendation. Whether it be with sleeves or a sleeveless shirt dress – a fabulous feminine shape that flatters every figure.
I would also suggest a bright piece of knitwear, park the neutrals for a season. Personally, I would go for a bright red cashmere crew neck jumper. Make a statement.
Finally, a military style jacket is a new staple – perfect worn with jeans and looks great over a spring dress or with wide leg trousers – a true forever piece.
Who can wear these looks this season?
Everyone! This season feels effortlessly stylish whatever your age.
It is easy to get in your comfort zone with fashion, what are the top tips to keep your look fresh?
It is indeed, and as a working mum I try to keep things simple with a daily uniform which usually consists of a shirt, jeans and blazer combo – I keep this classic look fresh by adding a statement shoe – this season I wear a fringed red suede block heel shoe. Or I switch from a classic cotton shirt to a spotty ruffle shirt – another style that makes me feel flattered but on trend.
Try and add some colour to your outfits too. It really does freshen up your outfit. Don't be scared to be bold.
What are the new trends for shoes?
Everything goes this spring/summer, there are a few trends such as tassels, flat-forms and ladylike kitten heels, but generally it's more about your shoes not fading into the background this season, make a statement with your footwear with colour, print and standout details.
Which colours are on trend for handbags?
Red. Loving red this season and it is so great in a bag. Try a large shopper with clashing pink painted stripe or a mini cinch leather tassel bag (great worn as a cross body bag, especially on holiday). A silver leather bag is also a great investment for Spring/Summer, it goes with everything and works hard for all occasions.
Then there is leopard, which is always on trend. Think of leopard as a neutral.
I love all these trends for spring. I am going to use these helpful tips as I continue to expand by wardrobe this season!
Your suggestions are always welcome, as I continue on my journey to live life to the fullest. Let's have the very best 2017!
Visit Sacha daily at SachaD.com
Facebook
Youtube
Twitter
Instagram