I love pretty new make – up trends! There is nothing like a new lipstick or concealer to put a little pep in your step. Recently, I was lucky enough to speak with Sara Delaney, L'Oréal Designer Brands Regional Trainer and Sara provided the top tips and trends for cosmetics this year.
What are the top makeup looks that are on trend now for 2018?
I would say highlighting is definitely not going anywhere, but you can expect to see more of a range in the illuminating category from super soft naturally glowing skin to metallic duo chrome extreme strobing.
Skincare infused products that also have skin perfecting and priming properties, and have long term skin benefits and immediate results for all skin types. Think of a flawless canvas anything looks better on beautiful skin.
The Glossy eye is making a comeback, as well as the blurred lip. I love this undone trend we are seeing a lot of on the runways. Also, flushed looks, intense and different, brighter pinks and oranges, sculpted cheeks blushing for spring.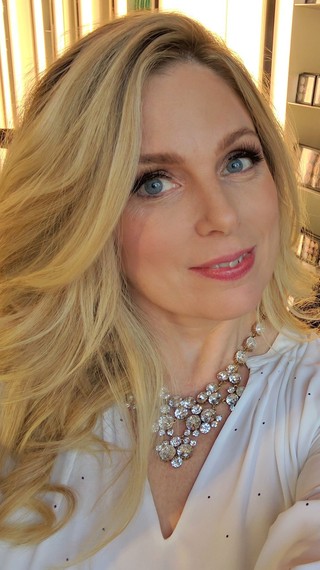 Sacha DeVoretz (author) trying on trend make up looks for 2018!
Top tips to do these looks?
Highlighting is as personal as eyebrow preference, everyone is different.
If you are not sure where to start try a liquid illuminator that is sheer you can customize your look by adding a drop into your foundation or be more daring and apply right on top on the cheekbones, the center of the bridge of the nose and cupids bow.
The glossy eye is made more wearable by selecting a very metallic cream eye shadow, or a new eye gloss for an instant wet eye effect.
The blurred lip is such an interesting trend, after years of perfect lip lines a more interesting and artfully smudged look emerges, apply lipstick to the center of your mouth and blend the lipstick outward with your finger leaving the middle with more colour and a faded blurred look on the outer edges.
Try the flushed look with a duo stick, choose your shades and use them together to create a beautiful gradient effect on the cheek, or blend together for subtle sophistication.
Who can wear these looks?
Anyone can try these trends, however the daring colours that are hot this year are not for the faint of heart. When it comes to intense highlighting remember it can easily become too much very fast.
Any tips for mature skin and on trends looks?
For a more mature client, I recommend using products that not only give instant results but improve skin overtime, for the most natural flawless glowing skin you have ever had at any age.
Use more soft focus highlighters instead of extreme metallic finishes on any textured areas.
Start subtle with trendy colours, the most important thing is that you are comfortable in what you wear.
Top tips to keep your makeup fresh all day long?
Two words – Prime and set! Use a suitable primer for maximum wear and minimal texture, set with a loose powder and finish with a setting spray to keep your hard work in place.
Any other tips?
We hear it all the time but clean your brushes once a week for great application and skin.
Use a toning lotion after you cleanse your face every night, we all forget this step too often.
Give every colour a chance, take risks and try something new!
Here are my top tips for an amazing look in 2018:
Pick a feature that you absolutely love and focus on that. Skin already has a tawny-ness to it, so I would focus on the cheeks. I love blush! Blush is the perfect product for this. Tone on tone, sculpt, pop and then highlight to make skin look radiant. Use as a cheek colour mixing the two tones together, creating a sunset on your cheeks. It is a great way to create warmth on the face.
Finish your eyes with a coat of mascara. A key tip to keeping your favourite mascara long wearing, is to prime your lashes with a lash primer. I love it because it makes any type of mascara perform better and helps mascara stay water-resistant, which is great throughout the year.
You can also re-apply your lash primer on the existing mascara on your lashes, and it will help make them lush, makes the reapplication of mascara more pliable and helps condition lashes. Pop on your favourite lipstick or lip gloss and you are good to go!
I love these beauty tips for 2018. Please let me know if you have any questions or if you have any beauty tips, I'd love to hear from you!
Visit Sacha daily at SachaD.com
Facebook
Youtube
Twitter 
Instagram