I love being active all year round. In the summer, it can seem easier to find different things to do, but what about the winter?
Recently, I was fortunate enough to speak with Andrew Sutherland, MEC Outdoor Expert. Andrew provided his best tips for staying active this winter and finding new fun things to do to keep you healthy during the colder months.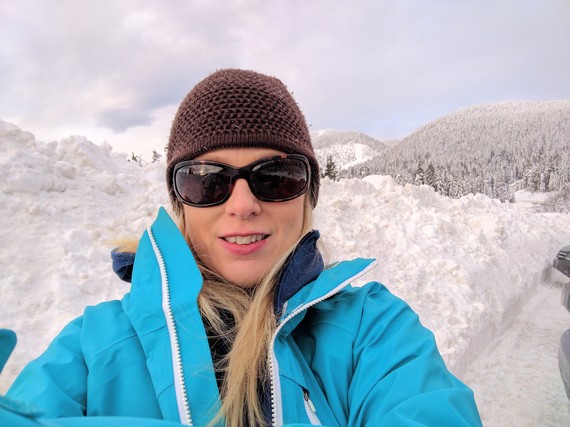 Sacha (author) enjoying a day of skiing!
1. Winter Cycling
Whether it's to maintain an active commute or because you can't bear to hang up your ride all season, you can cycle through a Canadian winter with a few basic tips. Keep warm, dry, and visible – dress in bright, reflective layers, starting with a warm base and be sure to use proper lights. To get your wheels ready check out this full list of tips for prepping your ride.
2. Downhill Skiing
There's no better way to spend the snowy season than at your local resort making fresh tracks. In colder areas you'll want an insulated jacket and pants, and in warmer areas and spring-like conditions opt for a lightweight, breathable shell and warm base layer. Add a comfortable boot and good company over après and you have yourself the perfect winter day.
3. Winter Running
Think of your winter running route like an obstacle course that with a little skill and the right gear you can navigate like a pro. Black ice and un-shoveled drives are managed with slip-on shoe traction spikes, and clothing with reflective detail keep you visible during darker days.
Look for lightweight fabrics like merino wool or polyester blends that wick away moisture and use a light shell to protect against harsh winds.
4. Indoor Climbing or Bouldering
Need a break from the chill? Forget turning up the heat and head to your local climbing gym. You'll get a serious workout as you stretch and strengthen your way through the routes. Feeling intimidated? Here are 15 things you'll want to know about climbing to build your confidence if you're a first timer.
5. Circus School
Circus schools are popping up across the country from the Vancouver Circus School or Le Cirqus in Montreal. Dying to try the trapeze? Or perhaps a unicycle is more up your alley. Whatever you choose to tackle you'll get a killer workout with enough variety and levity to last you until the thaw.
6. Snowshoeing
Run, scale a mountain, or enjoy a brisk walk – there's a snowshoe for every occasion. Enjoy this quintessentially Canadian activity to get a great view and an even greater workout. The wide base will keep you floating over the freshly fallen flakes and it's a great activity for first timers. MEC rents snowshoes, so you can see what kind of snowshoer you want to be.
7. GeoCaching
Snowflakes only add to the challenge for geocaching throughout the winter – but the challenge is all part of the fun. Get together a crew to search out for treasures, known as "geocaches", hidden at different GPS locations (start at www.geocaching.com) and don't forget the hot chocolate.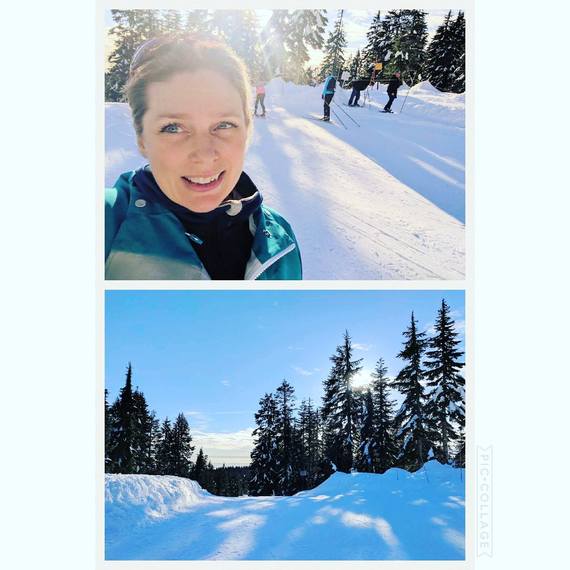 Sacha (author) Nordic skiing – my favourite!
8. Nordic
A low-impact, yet serious workout with a view? Nordic skiing is a great social workout, as you can keep up the conversation while burning calories, and you can find plenty of urban parks or wilderness trails to suit your mood. Check out this guide on different types of nordic skiing for one that suits you.
9. Yoga
There might be no better way to stay toasty than in a yoga studio on a cold day. For hot yoga classes opt for breathable, stretchy polyester and stay hydrated with plenty of water. Avoid zippers or buttons that will poke you in savasana so you can truly relax.
10. Interval Training
Interval training helps you perform your best for cycling, hiking, and running. With alternating high-intensity exercises with rests in between you will be heating up in no time. Add intervals into your base cardio and strength-training workout, and check out these ways to master interval training – you'll thank yourself come spring when you're fully ready to get outside again.
I am going to use these helpful tips to keep active this winter, if you have any fitness questions, please let me know and I will do my best to find the answers for you.
Your suggestions are always welcome as I continue on my journey to enjoy life to the fullest. Let's have the very best 2017!
Visit Sacha daily at SachaD.com
Facebook
Twitter
Instagram
Youtube