A friend of mine recently moved to Nanaimo and she shared with me that it is a wonderful and often overlooked destination.
I love finding out about cities from a local's perspective. So I decided to spend a few days in the Harbour city and share with you what I experienced. I found the people to be warm and welcoming, and the weather was very nice. It was a wonderful experience.
Parks
There are lots of beautiful parks and trails to choose from when visiting Nanaimo. Some of the more popular trails are the Trans Canada Trail, Harbourfront Walkway and Parkway Trail.
Fun Activities
One of the most amazing experiences is being in nature and swimming with the seals.Sundown Diving has guided tours, they provided all the equipment and tour. To do this fun activity, you should feel comfortable in the water.
A Flightseeing tour is a fun way to see a new destination. You can see the destination from a new perspective and see the sights from the comfort of a smaller plane. Sunshine Coast Airhas daily tours that provide you with a great way to see Nanaimo and the area.
If you love food and trying local dishes, you may want to hop on the Vancouver Island Expeditions. They provide a west coast experience, including a stop at St. Jean's Cannerywhere you can eat lots of delicious smoked salmon and take it home with you too (makes a great gift!)
Catamaran tour with Vancouver Island Catamaran Sailing. I love laying out in the sun on a boat. Relaxing and a nice way to enjoy the harbour. It is really comfortable and a great way to enjoy an afternoon and see the sights.
If you are a history buff, then you will want to check out the Cannon firing with the Nanaimo Museum, held at noon (open 7 days a week from the May long weekend through Labour Day). Also, make sure to visit the Bastion and get a peek into the region's history.
To keep everyone in the family entertained and enjoying the outdoors, try Wildplay. They are 10 minutes (north) from downtown Nanaimo in a beautiful setting. Lot of different activities from bungee jumping, to zip lining and much more!
Shopping
I always say, I have dual citizenship in both luxury and the outdoors. So after spending time outside, it is always nice to look around a few local stores. Here are a few wonderful stores in Nanaimo:
NYLA Fresh Thread Clothing Store is a men's store with styles to suit everyone. Owned locally, it is a fresh take on guy's clothes that are comfortable and look great.
Flying Fish has everything from gorgeous sofas, to items for the kitchen and lovely gifts. It was easy for me to spend lots of time in this store and it seems to be popular with locals too.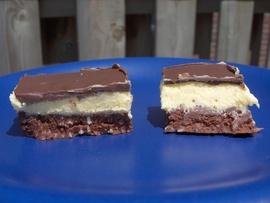 Cafes
Try the Nanaimo Bar Trail tour! You can visit local cafes and sample each variation of their own version of the Nanaimo Bar. Everything from vegan Nanaimo Bars, to Nanaimo bar cheesecake and much more.
Restaurants
You can take a scenic 10 minute ferry to the Dinghy Dock Pub. This pub is unique because it floats on the waters of Protection Island. Very popular with visitors and locals alike.
Do you enjoy a good beer? Then this is the place for you, Longwood Brewpub. It also has scrumptious pub food.
Nanaimo Bar Recipe
To get you excited about your visit to Nanaimo, try making your own Nanaimo bars. It is a big part of their history and community.
Stay
Coast Bastion Hotel has lovely harbour views and is located downtown. The Grand Hotel is north of Nanaimo and hosts high teas and whiskey tasting events.
For more accommodation options check out Tourism Nanaimo for more ideas.
Picnic lunch
I love eating healthy when I am traveling (and at home), if you want a healthy picnic tryPowerhouse in Nanaimo. They have lots of healthy vegan options too.
Farmer's Markets
Bastion Waterfront Farmers' Market
This popular market is in downtown Nanaimo. Every Friday, the market is held at the Pioneer Plaza with plenty of local products and lively music.
Getting Around
Try National Car Rental in Nanaimo for friendly car rental service. To get around by local transportation try BC Transit.
Getting There
To get some spectacular views and try a different way of traveling to the island.Helijet has transportation from downtown Vancouver to Victoria, daily.
Or another option is to travel by ferry.
Your suggestions are always welcome, as I continue on my journey to live life to the fullest. Let's explore some wonderful places and have the very best 2016!

Disclosure: This video was partially sponsored by the businesses featured in this video. This video and post also appear in SachaD.com, and all opinions in the post and video are completely my own.
Visit Sacha daily at SachaD.com
Facebook
Youtube
Twitter
Instagram