I love long lashes. They are probably my favourite makeup staple. You can wear them big, gorgeous fluffy or simple lashes to accentuate your eye shape.
Lashes have come a long way in recent years and there are amazing options for everyone.
Marni Burton, Celebrity Makeup Artist for KISS Products, shared her top tips for find the best lashes to suit your face shape and the best tips and tricks to apply the lashes.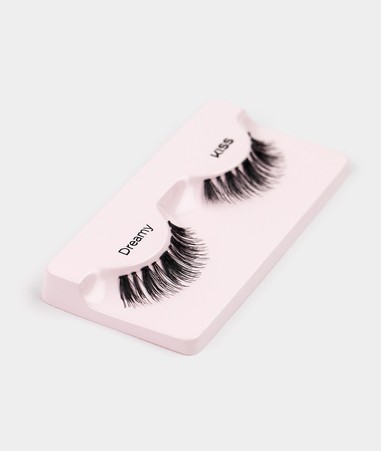 What are lashes made from?
Lashes are made of one of these materials: synthetic, human hair, silk, real mink, sable, or seal.
Who can wear lashes? (and anyone who shouldn't be wearing lashes?)
Lashes are for absolutely everyone! The trick is to treat lashes like you would foundation. Ask yourself which matches you perfectly… Then experiment from there with your personal style.
Photo Credit: @blinkingbeaute
What are the different styles of lashes?
There are so many styles it's shocking. To start the basic are individual, natural, and dramatic.
Then they break it down into categories like winged, volume, wispy, glamorous, and lengthen.
Some of my favorite styles:
A tapered end band specifically for the ends of the lash to exaggerate lash-line and appear longer and eyes more spread apart.
Short individual lashes to fill in missing gaps in the lash-line.
Lash "trios" which is a triple individual lash to have an option between individual and strip if you're style falls somewhere in the middle.
Layers of lashes on one lash band that acts like you are wearing more than one strip at the same time for extra glam! This helps with extra volume, depth, and dimension and creates the ultimate flutter affect.
Photo Credit: fashionmio.com
What are the best tips for applying lashes?
If it's a strip measure it to your lash-line to make sure it's not too long. If it's too long cut them. I like to cut one strip and then place it on top of the other and then cut that one to ensure they are exactly even.
Apply glue directly to the band for and wait 30 seconds before application.
Apply on a toward angle.
Apply with a tweezer in three sections: The end, then center and then inner corner. Use the back of the tweezer to press down and ensure the strip will stay in place
How to store and care for your lashes?
Place them back on the tray that they came on in the same circular angle. It's important for the lashes to keep their shape. Also, don't coat them with mascara and don't use an oil to remove them.
Other tips
Don't buy strips that come straight without a shape. They will be torturous to apply!!!
Wash the eye area thoroughly after removing the lashes to remove an extra residue and makeup. Be careful not to bend or break the lashes. Also, temporary eyelashes can twist very easily so they keep them flat for storage. When they start to fray and lose shape, this is the time to get a new pair.
Keep the lashes clean and when in doubt, throw them out! Nothing is more important than keeping the eye area clean and healthy.
Temporary lashes can give your own lashes a fuller more dramatic look. With temporary lashes you can achieve a really pretty look without being overtly fake and obvious.
Please feel free to share your tips and ideas on lashes, I would love to hear from you.
Let's have the very best year ever!
Visit Sacha daily at SachaD.com
Facebook
YouTube
Twitter
Instagram