Winter fashion seems to be everywhere! From the runways to the magazines. I see different styles and trends popping up everywhere.
More and more there are greater options for vegan fashion. Recently, I spoke with Jill Fraser, Founder and CEO of Jill Milan, a luxury vegan handbag company based in California. Jill shared with me some of the hottest winter trends for traditional handbags and also vegan handbags.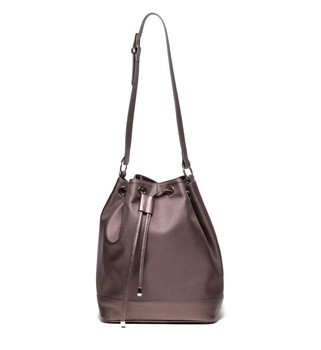 What are the latest trends in handbags for winter?
There are many trends now— ranging from fringe bags to minauderies. In general, bags are quite small. Minauderies are huge right now, as are envelope bags. Envelope bags pair very well with skirts and dresses and are perfect for day into evening use.
Satchels are also a big trend. Freedom of Animals has a nice one in a dark blue.
Bucket bags such are punching bags and backpacks are also right on trend.
Over-sized bags are still around, but here in San Francisco people seemed to have backed away from them a bit. We also see more metallics and blacks than in other areas of the country.
What are the hot colours this season for handbags?
Burgundies and plums are really hot and usually show up in some sort of variation in fall. Pair it with blacks, beige's and grays. Deep blues, gold and silver metallics, dark greens, grays, olives, whites, nudes, and blacks have all been very popular for autumn/winter.
What are the latest innovations where style meets technology?
There are a number of innovations in materials from test tube leather to cork and pineapple "leather." In some cases, I am concerned about the durability about these materials for handbag use, although I think cultured leather looks very promising.
Modern Meadow in New York just received $40 million in funding. They grow collagen, a protein found in animal skin, to create a leather "hide." To me, this technology is very exciting because it is both eco-friendly and durable.
What kind of texture and materials will be on trend for vegan handbags for winter?
Velvet is one of the best materials. You see many traditional designers use it but many vegan designers use it, too. Faux snakeskin is also a huge trend. We use both velvet and snakeskin on our Pacific Heights and New Canaan clutches. On the other hand, Stella McCartney is using a lot of faux fur and denims. The materials all work extremely well on vegan handbags and are perhaps a bit more luxe than faux leather.
We continue to use a lot of stainless steel with our handbags and this material is recyclable.
Any other bits of advice for this season's trends?
There are many trends out there, so really pick something that you love. You can't go wrong with that.
In the case of vegan bags, I would be wary of anything that smells odd. In some countries, faux leather can be treated with formaldehyde, a chemical most people wouldn't want next to their skin.
How to take care of your vegan handbags?
Nearly all vegan handbags do very well just being wiped with warm water on a cloth. Most repairs to vegan bags can be made by a competent shoe repair person.
High-quality vegan handbags last a very long time. Vegan fabrics can run from about a dollar a yard to more than $100. Vegan handbags can be made from upholstery fabrics, and that makes a huge difference in terms of extending the lifespan of the bag. Upholstery materials are designed to withstand literally close to a lifetime of use.
I am going to use these helpful tips as I continue to expand by style ideas this winter! I love the idea of having a pretty vegan handbag.
Your suggestions are always welcome, as I continue on my journey to live life to the fullest. Let's have the very best 2016!
Visit Sacha daily at SachaD.com
Facebook
Youtube
Twitter
Instagram